Updated 12/17/17...
Okay. I admit it. I hate to admit it but I do. I started this whole blogging thing not knowing what I was doing or what purpose it was serving. Then, with the lack of vision, I got
complacent
lazy. I was lazy in my purpose and in my follow through. Until now.
I went to Lone Star
TIA
, a Denton ISD conference... and OMG! I can't tell you how many times my mind was blown!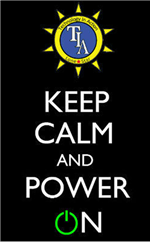 I sat through one session where a teacher had first grade students blogging. Yeah... you heard me right. FIRST GRADERS!
I sat in the session and thought "Ugh! I don't even keep up with my own blog." Then I started thinking of how useful student blogs would be and how lazy I've gotten, and not just about blogging.
So this year I vow to blog at least once a week.
Well that didn't happen.
On Fridays, my students will be blogging on weebly on a site I'm currently setting up and I will be blogging here.
That didn't happen either but...
this
did.
So here's to the death of laziness.
Ginny